Torsion springs
A lateral spring - also called an arm spring - is a cylindrically coiled spring with a rectilinear bar made of spring steel.
The spring mechanism arises from twisting the bar.
An arm spring is utilized in such things as vehicles, where one end of the spring is fitted in the chassis, for example, and the other end of the spring to a wheel suspension.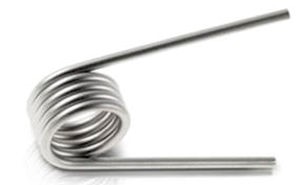 An arm spring can have a wire thickness of 0.1 to 25.0 mm.
| Item no. | Tread | Length | D type | Diameter | Coils | Coil direction | Coiling | Turntype | Eyetype | Surface | Material | Qty on stock | |
| --- | --- | --- | --- | --- | --- | --- | --- | --- | --- | --- | --- | --- | --- |
| W0018161 | 4,5 | 0 | Di | 18 | 2 | | | nt | | | EN 10270-1 Grade SM. W. 1.0600 wire, drawn | 224 | |
| W0018905 | 2 | 0 | Di | 14 | 2.5 | | closed coils | nt | | | EN 10270-3, W. 1.4310 NS, stainless steel wire | 192 | |
| W0019991 | 3,5 | 0 | | 30,5 | 4 | | | nt | | | EN 10270-3, W. 1.4310 NS, stainless steel wire | 225 | |
| W0019992 | 3,5 | 0 | X | 30,5 | 4 | left hand coiled | closed coils | nt | | | EN 10270-3, W. 1.4310 NS, stainless steel wire | 538 | |
| W0020183 | 2,5 | 30 | X | 80 | 12 | | closed coils | nt | | | EN 10270-1 Grade SH. W. 1.1200, wire, drawn | 300 | |
| W0022820 | 2 | 0 | Di | 13,8 | 0 | | | | | | EN 10270-1 Grade SH. W. 1.1200 wire, zinc plated | 12570 | |
| W0022933 | 1,8 | 0 | Di | 12,2 | 5.6 | left hand coiled | closed coils | nt | | | EN 10270-3, W. 1.4310 NS, stainless steel wire | 387 | |
| W0022934 | 1,8 | 0 | Di | 12,2 | 5.6 | | | nt | | | EN 10270-3, W. 1.4310 NS, stainless steel wire | 380 | |
| W0023404 | 1,7 | 0 | De | 12 | 6.3 | | closed coils | nt | | | EN 10270-1 Grade SM. W. 1.0600 wire, zinc plated | 3282 | |
| W0023423 | 3 | 0 | X | 20,5 | 4.25 | left hand coiled | closed coils | nt | | | EN 10270-1 Grade SM. W. 1.0600 wire, zinc plated | 1000 | |
| W0023600 | 1,5 | 0 | Dm | 20 | 0 | | closed coils | | | | EN 10270-3, W. 1.4568, stainless steel wire, heat resisting | 668 | |
| W0024041 | 3 | 0 | | 20,5 | 4.25 | | | nt | | | EN 10270-1 Grade SM. W. 1.0600 wire, zinc plated | 1030 | |
| W0024972 | 1 | 0 | Di | 7 | 8.2 | left hand coiled | closed coils | nt | | | EN 10270-3, W. 1.4310 NS, stainless steel wire | 300 | |
| W0024973 | 1 | 0 | Di | 7 | 8.2 | left hand coiled | closed coils | nt | | | EN 10270-3, W. 1.4310 NS, stainless steel wire | 133 | |
| W0025399 | 2 | 0 | Di | 15 | 15 | | closed coils | nt | | | EN 10270-3, W. 1.4310 NS, stainless steel wire | 54 | |
| W0025921 | 2,5 | 0 | Dm | 30 | 2.5 | left hand coiled | closed coils | nt | | | EN 10270-3, W. 1.4310 NS, stainless steel wire | 262 | |
| W0026080 | 2,5 | 0 | Dm | 30 | 3.5 | | closed coils | nt | | | EN 10270-3, W. 1.4310 NS, stainless steel wire | 64 | |
| W0026422 | 1,25 | 0 | Di | 18 | 5.75 | left hand coiled | closed coils | nt | | | EN 10270-3, W. 1.4310 NS, stainless steel wire | 425 | |
| W0026572 | 3,8 | 21 | Dm | 30 | 4.3 | left hand coiled | closed coils | nt | | | EN 10270-3, W. 1.4568, stainless steel wire, heat resisting | 98 | |
| W0027283 | 1,5 | 0 | Dm | 15,2 | 3.8 | | closed coils | nt | | | EN 10270-3, W. 1.4310 NS, stainless steel wire | 260 | |
| W0028835 | 8 | 102 | X | 52 | 0 | left hand coiled | closed coils | | | | EN 10270-1 Grade SH. W. 1.1200, wire, drawn | 7 | |
| W0029001 | 1,25 | 0 | Di | 6 | 6 | left hand coiled | closed coils | nt | | | EN 10270-3, W. 1.4310 NS, stainless steel wire | 21 | |
| W0029185 | 1 | 0 | Di | 8 | 4.5 | left hand coiled | closed coils | nt | | | EN 10270-3, W. 1.4310 NS, stainless steel wire | 39 | |
| W0030090 | 1,5 | 0 | Di | 12 | 4.25 | | closed coils | nt | | | EN 10270-3, W. 1.4310 NS, stainless steel wire | 6420 | |
| W0030519 | 1 | 12 | X | 12 | 0 | | closed coils | | | | EN 10270-3, W. 1.4310 NS, stainless steel wire | 47 | |
| W0030653 | 4 | 0 | Di | 16 | 6.25 | left hand coiled | closed coils | nt | | | EN 10270-3, W. 1.4310 NS, stainless steel wire | 40 | |
| W0031172 | 4 | 0 | Di | 33 | 4 | | | nt | | | EN 10270-1 Grade SH. W. 1.1200, wire, drawn | 38 | |
| W0031473 | 2,6 | 0 | Di | 20 | 8.5 | | | nt | | | EN 10270-3, W. 1.4568, stainless steel wire, heat resisting | 303 | |
| W0031914 | 1,5 | 0 | Di | 12 | 3.75 | | closed coils | nt | | | EN 10270-3, W. 1.4310 NS, stainless steel wire | 74 | |
| W0032685 | 2,8 | 0 | Dm | 22,3 | 8.78 | | | nt | | | EN 10270-3, W. 1.4568, stainless steel wire, heat resisting | 33 | |
| W0033977 | 1,2 | 0 | Di | 6 | 1.4 | left hand coiled | closed coils | nt | | | EN 10270-3, W. 1.4310 NS, stainless steel wire | 11 | |
| W0034529 | 1,8 | 21.6 | X | 11 | 11 | | closed coils | nt | | | EN 10270-3, W. 1.4310 NS, stainless steel wire | 6 | |
| W0035218 | 2 | 0 | Dm | 23 | 6 | left hand coiled | closed coils | nt | | | EN 10270-3, W. 1.4310 NS, stainless steel wire | 15 | |
| W0035219 | 2 | 0 | Dm | 23,5 | 6 | left hand coiled | closed coils | nt | | | EN 10270-3, W. 1.4310 NS, stainless steel wire | 38 | |
| W0035220 | 1,8 | 0 | Dm | 23,8 | 4 | | closed coils | nt | | | EN 10270-3, W. 1.4310 NS, stainless steel wire | 31 | |
| W0036813 | 1,1 | 0 | Di | 7,2 | 12 | | closed coils | nt | | | EN 10270-3, W. 1.4310 NS, stainless steel wire | 80 | |
| W0037041 | 8 | 0 | Dm | 100 | 2.4 | | closed coils | nt | | | EN 10270-1 Grade SH. W. 1.1200, wire, drawn | 30 | |
| W0037689 | 3,4 | 0 | Dm | 30 | 4.3 | | | nt | | | EN 10270-3, W. 1.4310 NS, stainless steel wire | 204 | |
| W0037690 | 3,4 | 0 | Dm | 30 | 4.3 | | | nt | | | EN 10270-3, W. 1.4310 NS, stainless steel wire | 86 | |
| W0038399 | 0,8 | 0 | Di | 5,5 | 0 | | closed coils | | | | EN 10270-3, W. 1.4310 NS, stainless steel wire | 7 | |
| W0039005 | 2,5 | 0 | Dm | 30 | 0 | | closed coils | | | | EN 10270-3, W. 1.4310 NS, stainless steel wire | 10 | |
| W0039008 | 1,5 | 0 | X | 13 | 12 | | closed coils | nt | | | EN 10270-3, W. 1.4310 NS, stainless steel wire | 57 | |
| W0039038 | 2,2 | 0 | Di | 105 | 2 | | closed coils | nt | | | EN 10270-3, W. 1.4310 NS, stainless steel wire | 38 | |
| W0040664 | 2,5 | 0 | X | 20 | 7.75 | left hand coiled | closed coils | nt | | | EN 10270-1 Grade SM. W. 1.0600 wire, drawn | 218 | |
| W0042341 | 2 | 0 | De | 44,5 | 6 | left hand coiled | closed coils | nt | | | EN 10270-1 Grade SH. W. 1.1200, wire, drawn | 1080 | |
| W0044110 | 2 | 0 | Dm | 17 | 2.2 | | closed coils | nt | | | EN 10270-1 Grade SH. W. 1.1200, wire, drawn | 6 | |
| W0045444 | 0,35 | 0 | Di | 2 | 1.5 | left hand coiled | closed coils | nt | | | EN 10270-3, W. 1.4310 NS, stainless steel wire | 42000 | |
| W0046620 | 5 | 0 | De | 40 | 0 | right hand coiled | closed coils | | | | EN 10270-3, W. 1.4310 HS, stainless steel wire | 14 | |
| W0046621 | 5 | 0 | De | 40 | 0 | left hand coiled | closed coils | | | | EN 10270-3, W. 1.4310 HS, stainless steel wire | 14 | |
| W0047370 | 15 | 135 | Dm | 75 | 9 | right hand coiled | closed coils | nt | | painted | EN 10270-1 Grade DH. W. 1.1211 wire, drawn | 11 | |
| W0047371 | 15 | 135 | Dm | 75 | 9 | left hand coiled | closed coils | nt | | painted | EN 10270-1 Grade DH. W. 1.1211 wire, drawn | 15 | |
| W0048797 | 0,7 | 0 | De | 7,72 | 9.75 | right hand coiled | closed coils | nt | | | EN 10270-3, W. 1.4310 NS, stainless steel wire | 3 | |
| W0052650 | 0,8 | 17.4 | De | 9,4 | 0 | | closed coils | n | | zinc flake | EN 10270-2, VD SiCr, wire, oil tempered | 70 | |
| W0052651 | 1,3 | 15.3 | De | 13,5 | 0 | | closed coils | n | | zinc flake | EN 10270-2, VD SiCr, wire, oil tempered | 79 | |
| W0054597 | 1,3 | 0 | X | 24 | 5.75 | | closed coils | nt | | | EN 10270-1 Grade SH. W. 1.1200, wire, drawn | 182 | |
| W0054712 | 4,5 | 0 | Di | 31 | 2 | left hand coiled | closed coils | nt | | | EN 10270-1 Grade SM. W. 1.0600 wire, zinc plated | 450 | |
| W0055098 | 4,5 | 48 | Di | 41 | 9 | | | nt | | | EN 10270-3, W. 1.4310 NS, stainless steel wire | 1 | |
| W0055099 | 4,5 | 48 | Di | 41 | 9 | | | nt | | | EN 10270-3, W. 1.4310 NS, stainless steel wire | 26 | |
| W0055727 | 0,9 | 0 | Di | 12,5 | 3.75 | left hand coiled | closed coils | nt | | | EN 10270-3, W. 1.4310 NS, stainless steel wire | 15578 | |
| W0055956 | 2 | 0 | Dm | 13 | 14 | left hand coiled | closed coils | nt | | | EN 10270-3, W. 1.4401 stainless steel wire, acid-resistant | 9950 | |
| W0056507 | 1 | 0 | X | 17,5 | 2.5 | left hand coiled | closed coils | nt | | | EN 10270-3, W. 1.4401 stainless steel wire, acid-resistant | 2000 | |
| W0017903 | 1,5 | 0 | Di | 23 | 4.5 | | | nt | | | EN 10270-3, W. 1.4568, stainless steel wire, heat resisting | 14 | |
| W0018922 | 2 | 0 | Di | 22 | 8 | | | nt | | | EN 10270-1 Grade SH. W. 1.1200, wire, drawn | 10 | |
| W0019030 | 5 | 0 | Dm | 44 | 8 | | | nt | | | EN 10270-1 Grade SH. W. 1.1200, wire, drawn | 79 | |
| W0025547 | 2 | 14 | Di | 4 | 5 | | | nt | | | EN 10270-3, W. 1.4310 NS, stainless steel wire | 33 | |
| W0026032 | 3 | 21 | Dm | 20 | 6 | left hand coiled | | nt | | | EN 10270-2, VD SiCr, wire, oil tempered | 5 | |
| W0028324 | 1,3 | 20.5 | Dm | 12 | 8 | | | nt | | | EN 10270-3, W. 1.4310 NS, stainless steel wire | 3096 | |
| W0029224 | 1,6 | 28 | Di | 9 | 8 | | | nt | | | EN 10270-3, W. 1.4310 NS, stainless steel wire | 71 | |
| W0030442 | 1 | 23 | X | 8 | 12 | | | nt | | | EN 10270-3, W. 1.4310 NS, stainless steel wire | 117 | |
| W0030640 | 2,5 | 20.2 | Dm | 14 | 0 | left hand coiled | | | | | EN 10270-3, W. 1.4310 NS, stainless steel wire | 53 | |
| W0030642 | 4 | 0 | Di | 34 | 9 | | | nt | | | EN 10270-3, W. 1.4310 NS, stainless steel wire | 23 | |
| W0030643 | 4 | 0 | Di | 34 | 9 | left hand coiled | | nt | | | EN 10270-3, W. 1.4310 NS, stainless steel wire | 22 | |
| W0030644 | 3,5 | 75 | Dm | | 16 | left hand coiled | | nt | | | EN 10270-2, VD SiCr, wire, oil tempered | 34 | |
| W0030645 | 4 | 250 | Dm | 30 | 50 | | | nt | | | EN 10270-2, VD SiCr, wire, oil tempered | 11 | |
| W0030646 | 4 | 250 | Dm | 30 | 50 | left hand coiled | | nt | | | EN 10270-2, VD SiCr, wire, oil tempered | 35 | |
| W0030647 | 4 | 92 | Di | 21,6 | 12.5 | | | nt | | | EN 10270-3, W. 1.4310 NS, stainless steel wire | 14 | |
| W0031270 | 2 | 54.15 | Di | 12 | 0 | | | | | | EN 10270-3, W. 1.4310 NS, stainless steel wire | 63 | |
| W0034913 | 3,2 | 0 | Dm | 20 | 7 | | | nt | | | EN 10270-3, W. 1.4310 NS, stainless steel wire | 114 | |
| W0035102 | 3 | 34 | Di | 35 | 5.5 | left hand coiled | | nt | | | EN 10270-3, W. 1.4310 NS, stainless steel wire | 71 | |
| W0037761 | 1,8 | 71 | X | | 0 | | | nt | | | EN 10270-3, W. 1.4568, stainless steel wire, heat resisting | 550 | |
| W0043601 | 2 | 340 | Di | 13,8 | 0 | | | | | | EN 10270-1 Grade SH. W. 1.1200 wire, zinc plated | 6700 | |
| W0044865 | 4 | 45 | Dm | 46 | 4 | left hand coiled | | nt | | | EN 10270-3, W. 1.4310 NS, stainless steel wire | 17 | |